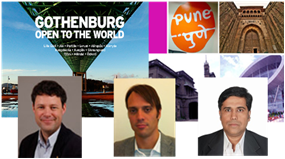 On 25th Oct'13, a business delegation from Goteborg, Sweden comprising of Mr. Erik-Wilhelm Graef Behm – Investment Manager ICT and Mr. Joel Gorsch – Investment Manager Technology had visited the MiracleCartes office in Pune. The visit was organized by MCCIA , Pune as part of business promotion and exchange between the cities of the two countries.
During the meeting , the delegation was given an understanding of MiracleCartes's overall business, the core solution focus areas and it's partner strategy. The delegation mentioned about the various opportunities of how the solutions ( iGainSpark in Specific) to be useful in their region. A lot of ideas were exhanged with some concrete steps for each side to follow-up.
Mr. Erik mentioned "…I am pleased to see your company not just talking about consulting but has something solid and tangible soution to offer."
MiracleCartes believes that this visit has set the first stepping stone to enter and collaborate in the Sweden Market.